ATWAR099
UZALA - Uzala LP
Absolutely blistering debut recording from one of the most-talked about doom bands of the past year. Uzala represent to me what doom metal has always been and always will be about: absolute, bone-crushing heavy metal thunder supplemented by soaring melody and above all, a knack for writing a good song! This duality of light and shade, darkness and light, beauty and the beast (check out the band pics haha) is what makes this band so special and what always drew me to bands like Saint Vitus, Cathedral, Burning Witch. Take the stoner groove and siren vocals on "The Reaping" and compare to the quasi-Frost riffing and gargoylian cough from Chad Remains on "Fracture".
The crushing sound is attained by a Blake Green (Wolvserpent) production and mastering by long-time At War cohort Andy Lippoldt of Persistence In Mourning. Amazing artwork by Darcy Nutt and layout and design by Stephen O'Malley.
There seems to be a real renaissance in doom metal at the moment after a long barren period and I reckon Uzala could be a real spearhead of the movement. Buy or die!
333 copies. 180g vinyl in heavy Stoughton "tip-on" sleeves with printed inners. This is a PREORDER item. The vinyl is at press now and will ship out as soon as they become available. If it's too near the Christmas rush I may wait until after then to send.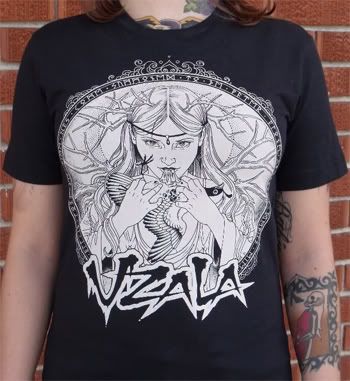 £16 [£19 UK/£20 Europe/£25 RoW POSTAGE PAID]
£22 (including tshirt) [£25 UK/£26 EU/£29 RoW POSTAGE PAID]
Available at:
www.atwarwithfalsenoise.com
_________________