http://youtu.be/xOzAuVkU6to
VEHEMENT SERENADE interview with WhereItEnds blog:
Q: So can you tell me how Vehement Serenade started in the first place? From what I understand, you guys have been a band for a while now?
Basically, V.S started as a vehicle for a bunch of Old Friends to Play New Music! We wanted to Do Fresh material, without preconceived notions, or labels. All like minded musicians , whom genuinely enjoy creating & preforming together! V.S is a Brand New Group, yet , All the members have been in a number of bands over the years, some played in bands together, or toured with Bands another member was in.
Q: I'm relatively new to you guys, since I heard you guys about a month ago on Black N Blue Radio, but are these shows you guys are playing this fall the first shows that you've played, or have you guys been playing for a while?
Well, we started writing music back in 2008, shortly after & same year, we appeared at the Black n Blue bowl, as the "unannounced special guest"!! As a 1st show, it was the perfect way to "light the fuse" on the project, as we planned on taking a much more active form immediately. Life can be funny tho, and fate with a series of events kept the band apart. Good & Bad Stuff. Anything from Other Touring Commitments / Record Cycles members had in other bands, 2 of us had children, divorce/break ups, Death, living in different states, Bad Luck, chronic Chandrasthtama, etc and so forth. SO against our Will, we laid inactive / dormant / hybernating for 2009-2011.
The Good News is the Sleep is OVER! The Planets are aligned, other commitments ending, and Vehement Serenade is taking life in the end of 2012. The East Coast Tsunami Fest in Reading is the Grand Rebirth of the Band. More shows being announced now, short run with Backtrack, few scattered shows. 2013 comes longer runs, and continuous momentum!!!!
Q: You guys have your debut EP coming out on Fast Break! Records, that was produced by Joey Z of the almighty Life Of Agony. How would you describe the songs that are on this record?
Was an absolute pleasure working with Joey Z at the Helm! His studio in Brooklyn was like 2nd Home to us. It impacted the record in a way in which it was stress free, and fun creating. The Material has elements of ALL of Our Collective History, has pieces of all of our experiences, yet, sounds entirely like NOTHING any of us have ever done. Thats sort of the beauty of this Project!
We are releasing a 7 inch limited color vinyl on September 25th right before Tsunami Fest! It's 2 songs, also available on I-Tunes. Good way to introduce the band and get some music out there in anticipation of the Full Length Album (Dropping in Spring 2013!!!)! All of this made possible of coarse by FASTBREAK records, who is really behind us!!
Q: What is it like having such a unique vocalists such as Karl from Earth Crisis, singing in your band?
Being in a band with Karl is fucking Awesome!! He writes GREAT Lyrics that are Rich in Content and Purpose. His Hard Voice is UnReal, while his SInging Voice resembles Ozzy........ meanwhile he is a SUPER cool, down to Earth, Genuine Human Being. Not to mention Road Ready Warrior, with Mucho Experience and a Cooling Vibe. Last of All he is the most forgetful SxE motherfucker out there playing in a band with on point Stoners!! hahahahahaahah LMAO!
Q: Since Karl obviously has prior commitments to touring and such with Earth Crisis, what are your future plans for the band after this fall?
Vehement Serenade has a few shows to finish out in 2012. 2013 will bring the release of our Debut Full Length, Music Videos, Longer / More Tours, and a whole lot of Conquering & Gut Stomping in General. Continuous forward momentum is the name of the game! Karl's other active ventures (Earth Crisis & Freya) will always continue to make albums and play shows, just not at a Full Time Capacity. Leaving us plenty of Room to Focus on V.S while maintaining our other Ventures.
Q: Anything else you'd like to mention?
You Can Follow the very Elusive Vehement Serenade on:
www.facebook.com/pages/vehement-serenade-official/141155432690181
Limited Color Vinyl & I-Tunes avail @
www.fastbreakent.com/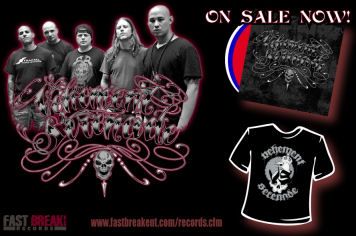 BRAND NEW V.S Merch Store:
www.coldcutsmerch.com/