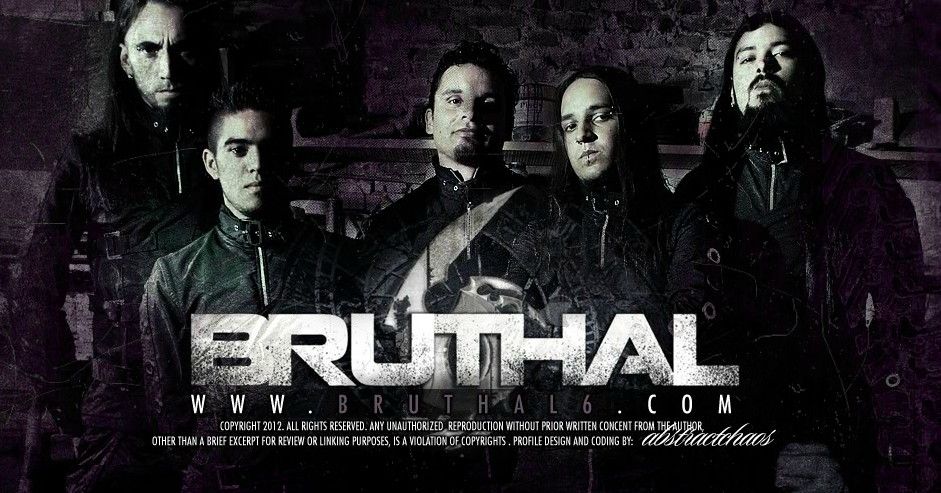 Hi everyone! My name is Alejandro A. Eiro, manager for Bruthal 6, a local metal band here in Buenos Aires, Argentina. Just want it to share with you their info and music Bruthal 6 is prepared for touring in the USA this summer, so it will be cool if you can check them out Srry for my english! hope u can understand everything and u like the band. Thanks to everyone! Cheers and stay sic
Some Bruthal 6 songs:
Una Vez Mas:
http://www.youtube.com/watch?v=hoFJjFIF9bQ
C.U.P.:
http://www.youtube.com/watch?v=IbKK01UbQ34
Y Ahora Que?:
http://www.youtube.com/watch?v=hyYzs...feature=relmfu
Libertad (latest video):
http://www.youtube.com/watch?v=JNE9lfwjCy0
Also if u want u can find in the official u tube channel a lot of videos live, some awesome covers and many many more!
If u like to know anything about the band u can contact me! i have translation on the lyrics too if any of u want.
Dossier with info and some images for the band:

www.mediafire.com/?2c460us0xfu4wye
The bio is kind of LARGE so if you want to check it out, go to
www.bruthal6.com
, the web is under construction but has some cool info
Band official sites:
PRENSS/CONTACT:
alejandroeiro@hotmail.com
(manager)
REVERBNATION /
www.reverbnation.com/bruthal6
YOUTUBE /
www.youtube.com/user/bruthal6official
TWITTER / twitter.com/#!/bruthal6
MYSPACE /
www.myspace.com/bruthal6
FACEBOOK:
www.facebook.com/Bruthal6.Oficia
If u like the band go to te official facebook and like it and share with your friends.
You can also find Bruthal 6 music on Itunes, Amazon and Rhapsody.