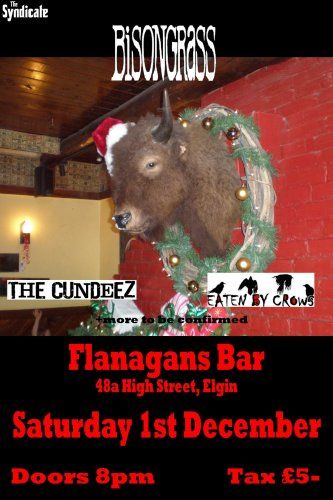 WARNING HEAVY :
Bisongrass
(formally Bison) return to Elgin to headline this years Xmas Blowout.
This will be an Elgin launch for their recently released self titled album.
After winning Best Metal Act and Best Newcomer at this years Fudge Awards in Aberdeen this is one band not to be missed.
Bringing everything including the kitchen sink will be
The Cundeez
from Dundee and to be honest i cant honestly describe them. Punk?, Pop? Folk? Ska? Street? - its probably best you just come and find out for yourself.
Opening up and making a welcome return to play their second Xmas Blowout are
Eaten by Crows
.
After a great debut performance last year and a promise to let them support if i ever got round to booking The Cundeez it was more than my lifes worth not to follow through.
Sorry in advance
Bisongrass
-
http://www.facebook.com/Bisongrassmetal
The Cundeez
-
http://www.facebook.com/Thecundeez
Eaten By Crows
-
http://www.facebook.com/pages/EATEN-...27193224007264
Event page
-
http://www.facebook.com/events/462749520426015